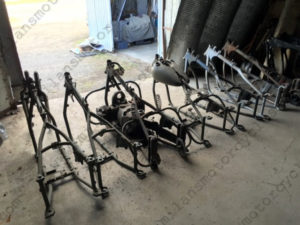 The other day we received a parts inquiry. We had to explain that at present we did not have the particular part in stock but because we too need parts for our 8, yes EIGHT 1942 Harley-Davidson XA frames/basket cases we have (7 frames shown here), we are actively sourcing parts all over the world. We have been extremely busy and we now have either located or manufactured the following items we expect to arrive within the next 2-3 weeks.
Front and rear spokes which will be offered parkerized with nipples.
A newly designed connecting rod cage.
New horn bracket.
Redesigned XA intake/exhaust valves.
We are also just about complete with fuel strainers so they should be available in a month or two.  We believe we have located our old stamping tool from the beautiful seats we made over 20 years ago. Our plan is to have these new seats, quality rear fenders, jiffy stands, blackout with headlight and bracket in stock for this summer. It's a huge undertaking and involves alot of international business dealings.  As always we encourage you to connect with us if you don't see what you need on the site.  We often have various forms of qualities of any one given part, ie) NOS, USED or REPRO,  so it is far too time consuming to number each item, add them to inventory on the site and make them available to purchase online.  Let us know what you need to finish your project and we will see what we have or what we can do to assist you in locating the part. We are constantly searching and networking with designers/engineers, private collectors, machinists, dealers etc. At some point, we actually hope to have the time to completely restore a few of these beauties for ourselves.  It's become a labour of love!
Contact us here with your list;
http://milansmotorcycles.com/contact/